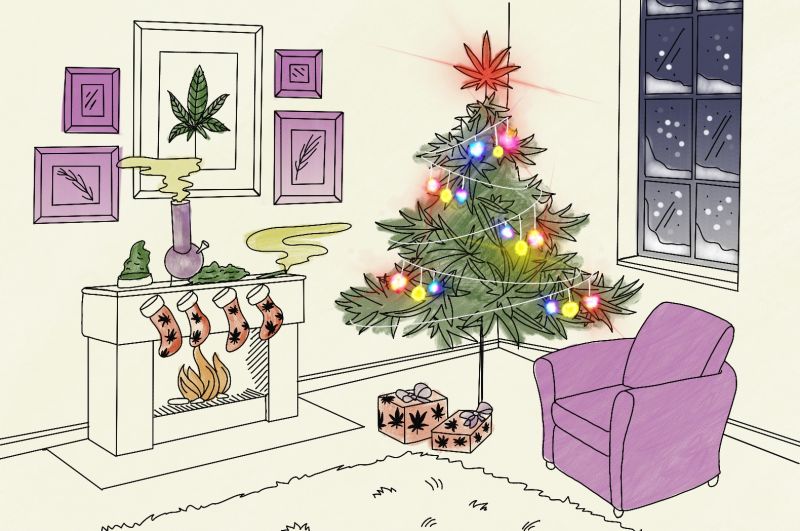 01/12/2021 Mary Cannabis Holidaze
Gifting Embodies the Spirit of the Cannabis Community
There is magic in the air. The warm dog days of summer have yielded to the crisp cool fall currents. Winter is leaning in heavily. Time to bundle up, pull on those wool slippers, and chill out.
No need to worry about running all over creation for gift-giving this season. We are extending blessings of love with gift suggestions that any cannabis fancier may appreciate.
Grab some hot steaming cocoa, and settle in for a Mary Jane sleigh ride. The Cannabis Reader is about to Rock your Treetop with our 2021 Cannabis Blazin' Holidaze Gift Guide Adventure.
Is Fire What They Desire?
Stocking stuffers are superb presents for the smoking, vaping, or dabbing connoisseur in your sphere. We even have a few gifts that may raise a smile on the face of those people that seem to be very hard to shop for.
Pipes and chillums are wonderful stocking stuffers or gifts. Grab a classic glass spoon pipe such as The Everyman's Bowl. A stylishly simple hand pipe with thick Borosilicate glass made to last. These pipes are easy to clean and maintain. Available in various colors this is a sweet gift for the herb smoker in your life. You can order this and many other pipes and accessories here: www.smokecartel.com
How about a small discreet glass chillum? 7pipe serves up precisely measured bowls of your favorite ground herb with just the twist of an auger. Fresh hits and draws every time. The Twisty Glass Blunt comes in sizes that can store ground smoking material from .3 grams up to 2 ounces. Some models are even adaptable for use in a bong. Great smoking gifts can be found here: www.7pipe.com
Something more personalized may ring in the joy. Check out personalized, custom rolling MOODTRAYS™. These well-lit trays come in an assortment of colors with brilliant LED lights to make it easier to roll in a dimly lit place. Choose from standard graphics or customize with your ideas. Easy fast charging with USB-c port and charging cord. Accessories such as ashtrays and storage containers can be custom designed as well. Jump on your reindeer and fly over to www.moodytrays.com for a genuinely unique gift.
Grinders are one of the most important tools for herbal connoisseurs. Ryot was established over 20 years ago and has a steady history of engineering top-grade grinders. Their Kannastor grinders are all hand-inspected for quality. Kannastor, a trusted brand, has multiple options, sizes, colors, versatile configurations with available added storage pucks. Shop their incredible quality here: www.Ryot.com
Don't forget some of the dankest stocking stuffers can be easy and simple. Spice up the holidaze with packs of flavored rolling papers, cones, and filters. And don't forget the lighters or torches to light up a New Year. Shop the enormous options at www.hippiebutler.com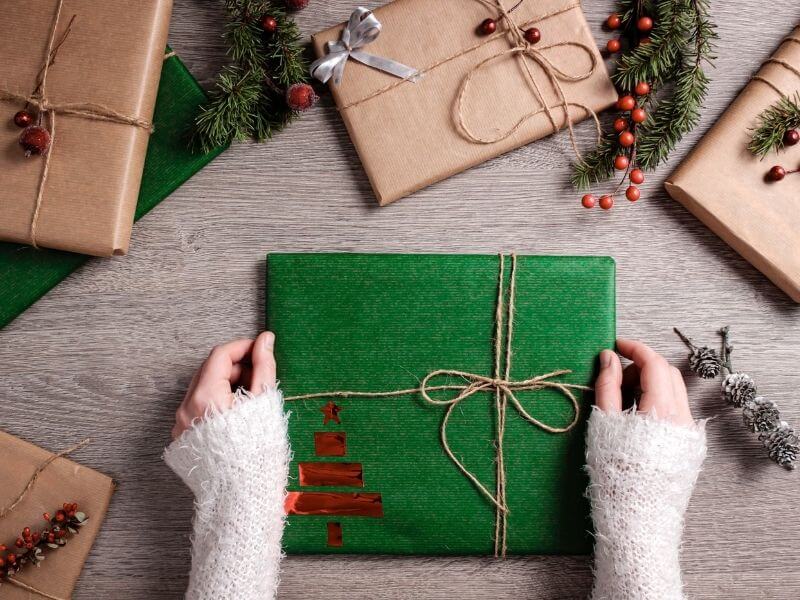 Help the traveler privately protect their precious valuables by bestowing a locking smell-proof stash case upon them. These cases are perfect to travel with your medications discreetly. Prymal Products presents a weather-resistant, scent-proof stash case. This stylish case has multiple inside pockets, an activated charcoal lining with removable dividers, and an outside pocket to keep all of your valuables protected. A 3 pin lock will protect minors or anyone else from access. With a 100% satisfaction guarantee, you can't go wrong with this present. Discover quality gifts from www.prymalproducts.com
Loved ones will grin from ear to ear with holiday cheer with creative imaginative cannabis gifts such as Ooze's Vault Extract Battery with Storage Chamber. Try a brilliant Slime Green color to add to the festivities. (Available in multiple color options.) This 510 threaded battery is a cross between a traditional pen stick battery and a palm battery. Adjustable voltage helps to supply the correct temperature for your vaping or dabbing needs. The Vault has a hidden storage compartment for an additional oil cartridge or for the Ooze Dual Quartz wax tank (provided) for dabbing on the go. Visit www.Oozelife.com for a terrific assortment of vaping batteries.
A Little Dab'll Do Ya…
Do you have a Dab lover that would certainly appreciate a new dab rig, a quartz banger, or a mat? How about a new e-mail? Check all the amazing dab products from Cannabox. In addition to prime essential smoking and dabbing needs, they offer funky apparel to advocate in your way. You can find a wide variety of beautiful, functional gifts suited for the most distinguished and selective-minded cannabis connoisseur. Visit www.Cannabox.com for 1000s of ideas.
More the Merrier this Season
You probably have special people that worked hard to stay off the naughty list and would like to treat them to some delicious holiday treats, these ideas would bring joy to any holiday gathering.
If you're in a location where cannabis is legal, ramp up the giving cheer with an eighth of premium cannabis from your local dispensary. A dank and mary strain to lift the spirits would be in order. Perhaps a cultivar that has the earthy fresh-cut pine tree terpene of pinene will enhance the merrymaking.
Edibles are a great way to add some Holidaze Cheer to your festivities. How about a cannabis dessert, brownies, cookies, cake. (Just make sure to announce that the edible is available and keep away from children or pets.)
Why not try a sparkling cannabis-infused wine or tonic to toast the festivities. Wouldn't it be cheery to ring in the New Year with a luxury branded sparkling cannabis-infused, non-alcoholic wine such as House of Saka Sparkling Pink? www.houseofsaka.com
Wrapping it Up
These suggestions show how much you care and appreciate the cannabis lover. Thoughtful gifts express how well you are tuned into the cannabis needs of your special person. They will feel understood and loved. Exactly what we all need this Holiday Season.
We hope you enjoyed your Mary sleigh ride through perfect Holidaze ideas for your cannabis lover. We wish you a stress-free season of love, warmth, and the spirit of giving.
Blessings from The Cannabis Reader to all of you and yours.
Written by Teresa Martin: Content Marketing Strategist Cannabis, Hemp, Alt Medicine
TAGS: