30/05/2022 Award winning Chef Glenn Cybulski shares his experience with cannabis infused food and how cooking with cannabis is different.
Glenn Cybulski started his career in Italy where he gained local culinary knowledge, then he enrolled in Italiana Pizzaioli where he became a certified Pizzaiolo. He won the "Best Pizza in North America Award" and was voted as a member of the year World Pizza Champions 2009. Glenn has appeared on multiple television shows and is the founder of Tossed Sauced and Baked. He is an executive chef, restaurant consultant and former President & Chief Culinary Officer for Stoner's Pizza Joint. Winner of more than 100 national and international awards, Glenn shares his inspirational story with us.
[[relatedPurchasesItems-36]]
[[relatedPurchasesItems-37]]
Tell us about your journey as a chef.
I started working in the food industry in 1979 at a local Deli, my father loved to cook & have friends and family over for large dinners and parties. I went to Italy in 1998 and studied Culinary in Rome and Naples. When I returned to the US I started opening restaurants.
How did you start with making cannabis infused food? What inspired you to get into cannabis industry?
I started studying cannabis when I was about 18 when I found out my father who lost his legs in the Korean War at age 21, and my brother who returned from Vietnam were using Cannabis to relieve their PTSD and Phantom Pain. I started to infuse my award-winning recipes in the 90s, I knew that one day Cannabis would be legal and I thought there would be a market for infused prepared foods.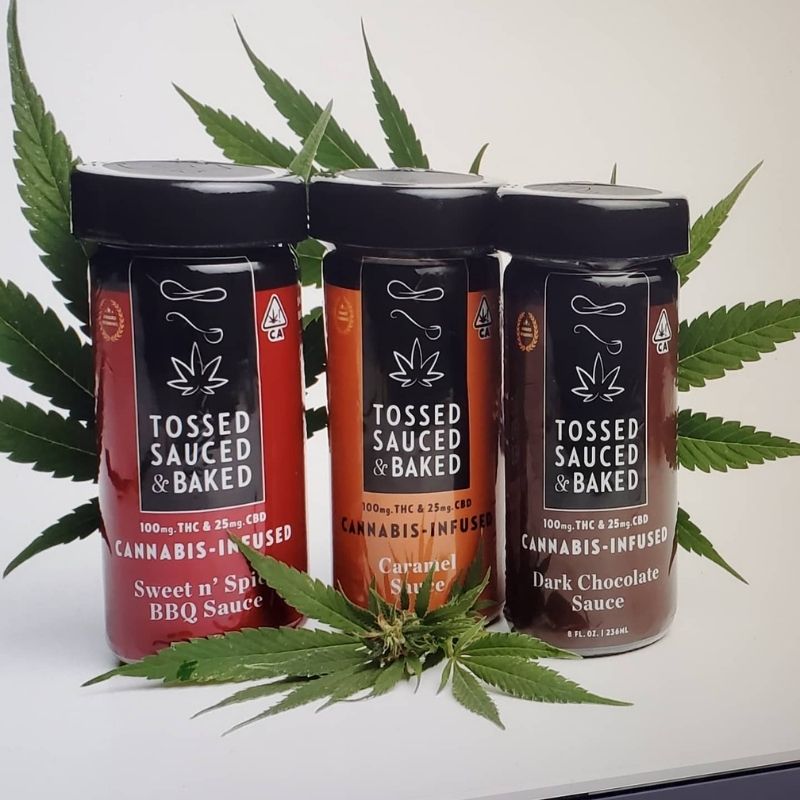 Image Source: Wikimedia CommonsFile: Tossed Sauced Baked
Tell us about Tossed Sauced Baked LLC.
I formed Tossed Sauced Baked, In 2016 to begin taking my award winning recipe into the infused cannabis markets. I launched my first three sauces in December 2020 and by the end of the had my Caramel, Chocolate and BBQ sauce in dispensaries throughout California. I am currently expanding by bringing 6 new products to market and opening a culinary Center in Northern California.
How is cooking with cannabis different?
Cannabis is an ingredient and has a very strict dosing protocol in order to give the customer a positive experience. Cannabis in distillate or isolate forms cannot be heated past a certain temp otherwise the THC/CBD Cannabinoids will lose their potency so planning a meal with several courses is a science in order to dose each course with the right amount of milligrams.
What are the aspects that you look for in cannabis when you infuse it with fat?
Distillates can be very aromatic so making sure all the ingredients complement each other from a taste, smell & texture is important. Earthy ingredients will go well with earthy terpenes, the end result is food that tastes great.
Would you like to serve THC infused drinks with your preparation? What are the new trends you are expecting?
Cannabis infused drinks are very popular and work well with infused foods, I will lightly dose drinks depending on what I am serving a guest. Isolates provide a taste free way to add THC to any drink. I believe craft cocktails that are infused will continue to gain traction in the market as well as Kombucha and teas.
Which is the most sold cannabis infused preparation on the menu?
Sauces that can be used to finish dishes like BBQ or Pastas are very popular, as well as Salad Dressings.
Tell us about your favourite Cannabis-infused food.
I enjoy infusing Charcuterie and pickled peppers as they can be used in many ways, my favorite is Salumi.
What is unique about the sauces you produce at TSB?
Every sauce recipe has won a culinary award before it was infused. My sweet & spicy BBQ sauce has 14 ingredients, not including cannabis, so the sauce itself is extremely balanced and very good infused or not. Our Caramel sauce won the Weed Con Productions Contest for best New Confection in 2021. High quality ingredients like real Vanilla, Butter Cream make each sauce unique itself, we use the best all natural ingredients in every sauce we make
Where do you see the cannabis industry in 5 years?
I believe that market will continue to grow at a good pace and we are looking into putting more focus on CBD in foods, being a young company is hard work however the payoff once the Fed legalizes Cannabis in the US will be very profitable. Building a brand that has traction in the market now takes a lot of os work and resources, but those companies that stick it out will win in the end.
What advice would you offer to chefs who wish to join this industry?
Understand how cannabis works as an ingredient first, then science the heck out of your dosing levels and write down every test you do to understand your new ingredient!
Interviewed by Prithvi Nagpal, Editor & Sommelier, Cannabis Reader & Cannabis Drinks Expo
TAGS: