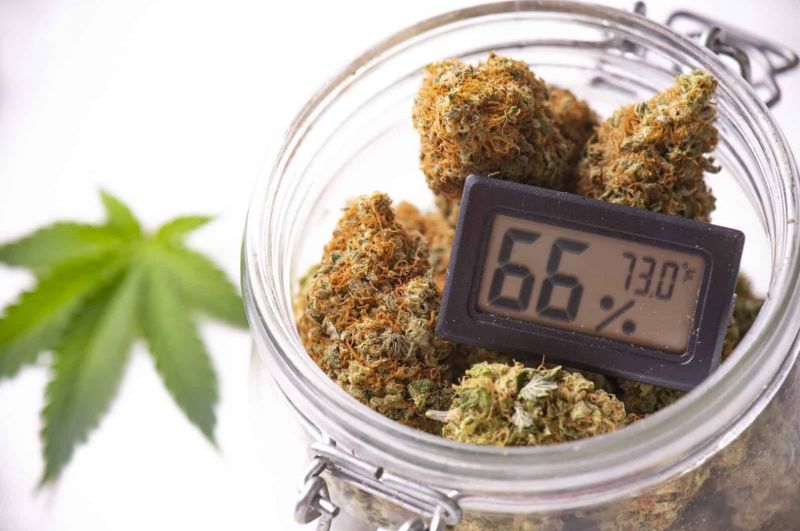 01/02/2023 Is it as simple as loving your greens? Well, yes and no. Read to find out!
What is a budtender?
Modern budtenders balance the medical patient's needs with the recreational consumer's wants, providing extensive product knowledge for both.
Above being a good salesperson, they have to be marijuana product specialists - a walking cannabis dictionary, if you will. Budtenders are responsible for creating an inviting and satisfying experience for the dispensary customers. They could be considered the face of their organisation.
They need to know their strains, cannabinoids, industry trends and all about the safe medical usage of cannabis. They must know how the cannabis is grown, who grows it, how to decipher the quality and then determine how much of each plant is safe for consumption. They also need to know county and state regulations and be in touch with regular news updates about the same.
[[relatedPurchasesItems-37]]
While it is considered an entry level position, the budtenders role is critical in the cannabis ecosystem. Many people who work today as managers, cultivators, producers and celebrity cannabis speakers all started as budtenders.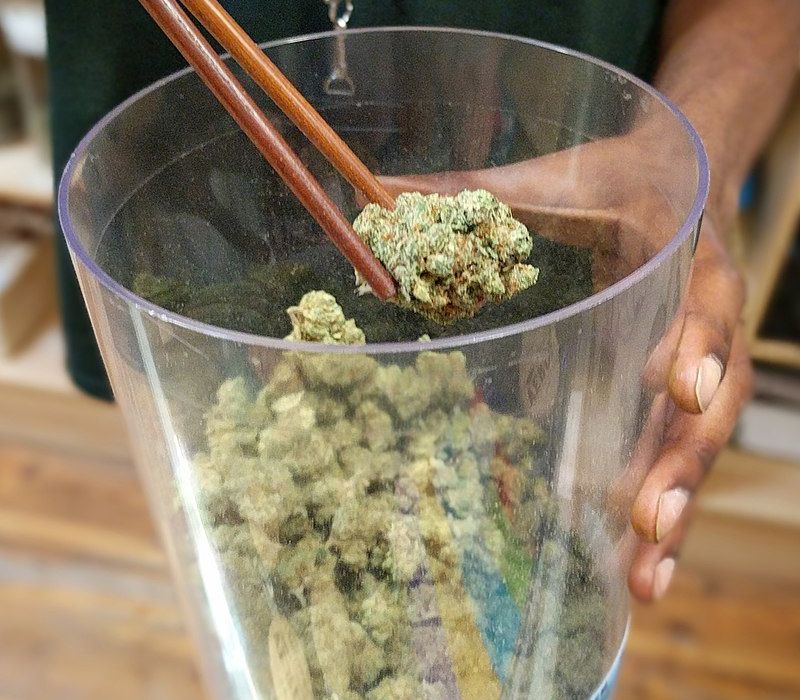 Image source : Budtender
STEP 1 :
PRODUCT KNOWLEDGE
This one goes without saying, but we're going to say it anyway. The more you know, the more valuable you will be to the marijuana dispensary and its customers.
Extensive research is a must, self consumption is a plus. Either way, you need to be a knowledge powerhouse in all aspects of cannabis culture.
This includes -
-Strain Genetics with detailed product descriptions like taste, smell, tolerance, visual characteristics
-Consumption methods including smoking, vaping, concentrates or edibles.
-The science and chemistry behind different cannabis products
-Nature and history of indica, sativa, hybrid blends
-Prices, measurements, weight conversions
-Trending products, new variants, new experiments in the market
-Marijuana vocabulary
-Basic symptoms for ailments and different conditions where marijuana could help - which one, and how much
STEP 2 -
A DEGREE
You can actually major in cannabis at highly-regarded, fully accredited schools around the U.S. As a major cash crop that comes in almost infinite strains and is the subject of numerous medical trials, cannabis represents an expansive area of study all on its own.
Northern Michigan University offers a medicinal plant chemistry course with a focus on the health applications of marijuana. UC–Davis offers a course called the Physiology of Cannabis. University of Washington has a class called Medicinal Cannabis and Chronic Pain. The Ohio State University Law School offers a Marijuana Law, Policy & Reform Seminar. And there are trade-specific schools like Oaksterdam University, Cannabis College, and Humboldt Cannabis College, all clustered in green-friendly California.
But this is not a puff and pass program. You will work hard for your degree in challenging classes such as organic chemistry, biostatistics, genetics, and gas and liquid chromatography. Find more training programmes here - ​​
STEP 3 -
INTERACT INTERACT INTERACT
Of course you will be talking to customers and consumers on the regular, but it is also important to interact with people actually in the industry - manufacturers, experts, speakers, scientists, doctors and producers.
The easiest and most engaging way to get educated is by attending as many expos, exhibitions, conferences and community meetings as possible.
Cannabis drinks industry leaders are planning to meet on July 28, 2022, in San Francisco, California & on August 02, 2022, in Chicago at the Cannabis Drinks Expo. The event, which is being organised by Beverage Trade Network, will mark the biggest global gathering of the cannabis drinks industry and is expected to draw some of the biggest names from within the industry.
With the cannabis drinks industry currently segmented along with a state-by-state basis, the Cannabis Drinks Expo will be an attempt to widen the perspective of market participants on the national dimensions of the industry. Regulatory and legal changes at the state level are now showing the potential to be expanded to a truly national level, and that has raised the interest level of all participants within the global drinks industry.
STEP 4 -
RETAIL EXPERIENCE
This isn't mandatory, but at the end of the day the job is to sell, right?
You should be able to talk amicably with everyone who enters the distillery, right from an irritable patient looking for relief for their ailments, to a newbie who has no idea what they want and how they want to consume it. You'll need to be honest and open when recommending products, because it comes down to the reputation of yourself and the dispensary.
You'll also meet the kind of people who know a lot about their marijuana, and you're going to want to at least appear to be at par with their knowledge. A bit of retail experience will go a long way in making you calm and confident when you're being strong armed into a heavy line of technical questioning. Do make sure you answer all questions, so the customer is left satisfied with their purchase.
Learning to work a cash register, a card machine, shelving, cleaning up behind a customer and converting every inquiry into a sale is of utmost essence to the job. This also includes basic etiquettes of customer service, the ability to multitask and hygiene.
STEP 5 -
INDUSTRY TRENDS
New strains and cannabis products are always emerging, and it is your job to stay on top of them. You should be full of insider knowledge of new brands, strains and types of products in the market.
This includes recipes for edibles, and home growing techniques too.
Read as many industry magazines, online articles and blogs as you can - and make sure they are credible sources. Pay attention to social media, what people are doing and saying, what they are liking. Follow "cannabis influencers" and reach out to their community every chance you get. LinkedIn has a great network of Cannabis entrepreneurs and staying connected with them will not just give you a first hang glimpse into the groundwork of the industry, but also open you up to future opportunities to make an even bigger impact.
STEP 6 -
BE A GREAT STORYTELLER
Sharing first hand experiences or personally gained knowledge will go a long way in making a connection, as well as success stories of other clients and customers. Each story is relatively short and tailored to each patient. It focuses on how the marijuana product in question could positively affect the customer's life.
After all, it is all about connecting with them at a personal level and finding a relatable middle ground that will make them trust you. This keeps customers loyal and helps with brand and budtender recognition. A talented budtender will cultivate customer relationships and keep them coming back for more.
Budtenders are basically the sommeliers of the marijuana industry, so to be charming, engaging and crowd pulling have to be some of the most important characteristics of a budtender.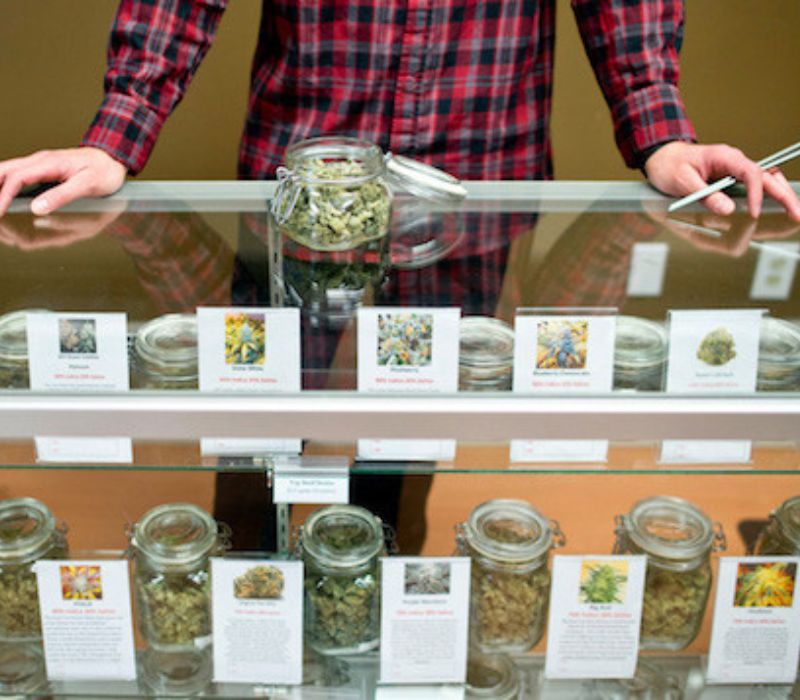 Image from : Indicaonline
If you want to be a part of the weed industry, becoming a budtender is a great way to get your foot in the door. The opportunity can help you learn the tricks of the cannabis trade, the plant's extensive medical benefits, and help you turn your passion into a skill that pays the bills!
Written by Stuti Khetan, Beverage Trade Network

TAGS: